Transfer ("Unterstellung") vs. Enrolement in the New Programme
The curriculum in economics has been further developed to meet the needs of students and the labour market. The old version of the curriculum expires on 30 November 2023.

A transfer is a change to a new curriculum within the same degree programme. Therefore, a transfer (Unterstellung) does not affect the period of entitlement to study grants or family allowances.

Inform yourself in advance about the consequences of a transfer on your eligibility of scholarships etc. (directly at the relevant authority).

A completed transfer cannot be reversed!


Conditions upon Admission ("Auflagen")
Due to the changed admission requirements, all previously issued conditions (Auflagen) are dropped in case of a transfer ("Unterstellung"), except the following courses, :
Macroeconomics
Microeconomics
Recognition of previously passed exams and courses
A majority of the classes which were part of the old Economics curriculum can recognised for the new curriculum.

Please note: This does not happen automatically in the course of the transfer, but must be done manually by the SSC.

To make the bureaucratic process easier for you, please submit the recognition list together with the notification of transfer. Before switching, consider which specialisation of the new curriculum you would like to complete.

Indicate on the list which courses you would like to have recognised and for which module in each case.

Example:

In the following example, the student has already taken some finance courses under the general electives in the old curriculum and therefore decides to take the specialisation D.1.1 Banking & Financial Markets in the new curriculum.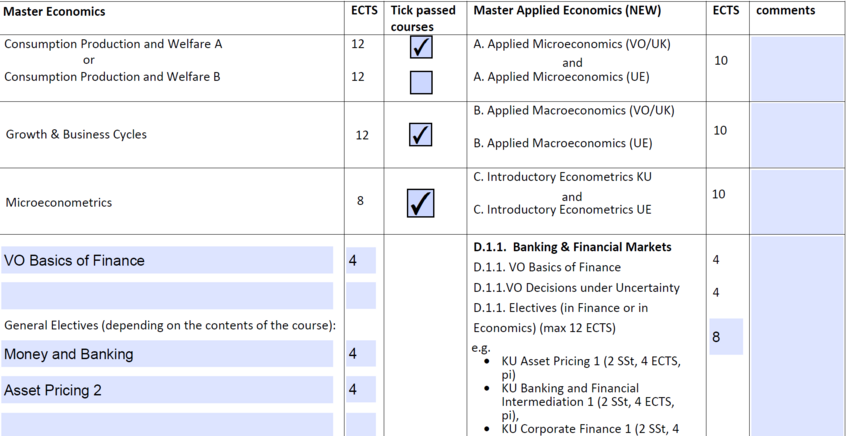 Time of Transfer
In principle, applications for transfer are possible at any time starting 12 July 2021. Please note, however, that the SSC can only recognise courses that already appear on your transcript of records. It is therefore advisable to wait with the transfer until all achievements of the current semester have been registered.

If you register for courses during the lecture period, allocation errors may occur. If you have registered for courses under the old curriculum and change during the semester, all active registrations must be changed.

Please note that the entire transfer and recognition process can take up to 8 weeks.



Transfer procedure
Please complete the following forms:
Application for recognition Applied Eocnomics transfer

and send both forms to: ssc.wiwi@univie.ac.at
You do NOT need to contact the Admissions Office. The SSC forwards the signed notification of transfer to the Admissions Office. As soon as the curriculum change has been completed, you will receive automatic information from Admissions. The SSC will then take care of the recognition of the achievements already made. As soon as this is completed, you will be notified and can collect your notification of recognition.