Transfer ("Unterstellung") vs. Enrolement in the New Programme
The curriculum in economics has been further developed to meet the needs of students and the labour market. The old version of the curriculum expires on 30 November 2023.

A transfer is a change to a new curriculum within the same degree programme. Therefore, a transfer (Unterstellung) does not affect the period of entitlement to study grants or family allowances.

Inform yourself in advance about the consequences of a transfer on your eligibility of scholarships etc. (directly at the relevant authority).

A completed transfer cannot be reversed!


Conditions upon Admission ("Auflagen")
Due to the changed admission requirements, all previously issued conditions (Auflagen) are dropped in case of a transfer ("Unterstellung"), except the following courses, :
Macroeconomics
Microeconomics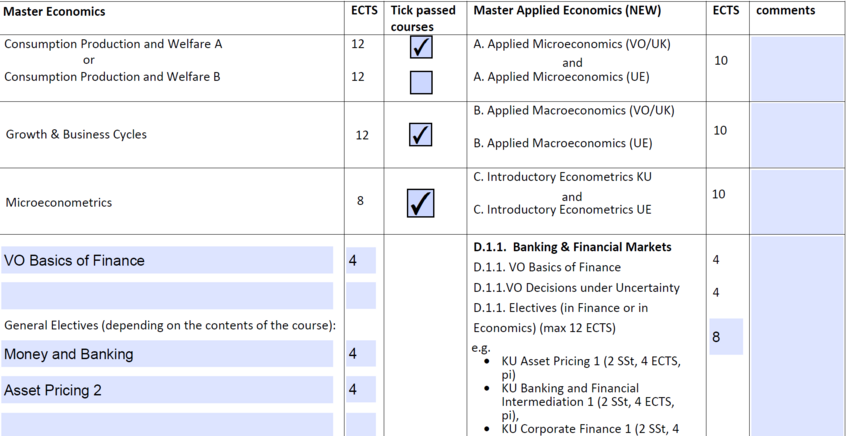 Time of Transfer
In principle, applications for transfer are possible at any time starting 12 July 2021. Please note, however, that the SSC can only recognise courses that already appear on your transcript of records. It is therefore advisable to wait with the transfer until all achievements of the current semester have been registered.

If you register for courses during the lecture period, allocation errors may occur. If you have registered for courses under the old curriculum and change during the semester, all active registrations must be changed.

Please note that the entire transfer and recognition process can take up to 8 weeks.



Transfer procedure
Please complete the following forms:
Notification of transfer (german only) Please send this form to the SSC (ssc.wiwi@univie.ac.at). The SSC will forward it to the admission office. You do NOT need to contact the admission office. You will be automatically notified further by the admission office.

As soon as you have been admitted to the new program, please apply via our ticket system for the recognition of examination credits using the following form:


Application for recognition Applied Eocnomics transfer